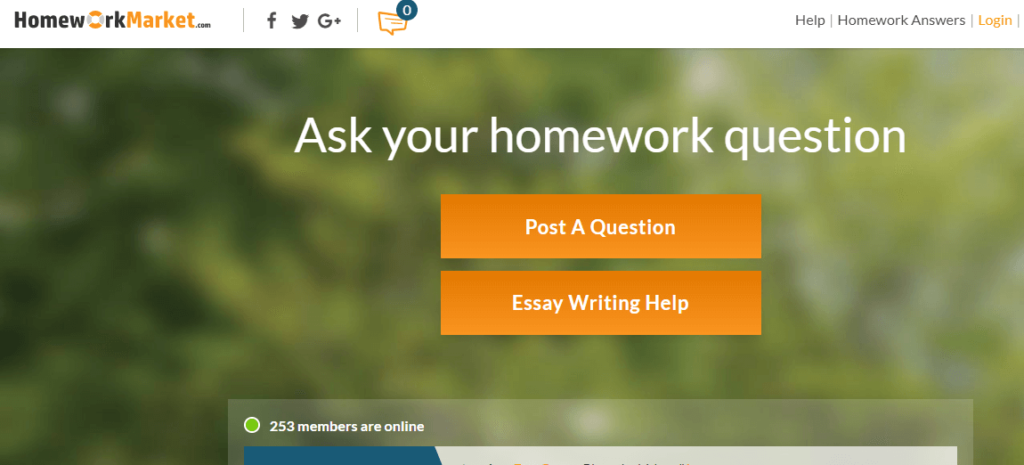 HomeworkMarket.com helps students with their homework assignments. It solves particular questions that students might have about a specific task. The website acts as a mediator and connects a school, college, and university students with online tutors who are experts and knowledgeable in their respective fields. These tutors assist students in their assignments and various queries.
HomeworkMarket.com is not very old since it was founded in 2011. In this review, we will assess if this homework assistance website is worth your money or not, whether it offers quality last-minute essay writing services to students, and if it is reliable enough for students.
1. How Does Homework Market Work?
In order to place an order on HomeworkMarket, you need to follow these steps:
Register yourself by clicking on the 'Sign Up' option displayed on the top right-hand corner of the home page of their website. You can register yourself with your social media accounts, such as Facebook, Twitter, and Google+, as well as your email ID.
Post your question or paper title, such as an assignment, article, essay writing help, or math problem, in which you want help, along with your budget, date, and field of study
Choose a tutor as per their bidding
See the preview answers for your question and the price
Choose a tutor and get quality help by purchasing the complete answer or assignment
There is no standard order form or price list on the website of Homework Market. The company promises that you can negotiate the price with a teacher. However, when we talked to some of their tutors, we came to know that they have some restrictions, such as deadlines, the minimum price of 1 page, etc.
2. Types of Writings HomeworkMarket Offers
Homework Market is not a writing service and only provides assistance with homework. The company doesn't write any professional articles. Homework Market offers homework help in various fields of study, including Biology, Business & Finance, Chemistry, Computer Science, Engineering, English, Spanish, History, Information Systems, Law, Literature, Mathematics, Physics, etc.
Homework Market answers a single question as well as full assignment, essay, and report questions. If required, the tutors conduct research on the questions and proofread their answers, however, this costs more for students.
3. Prices and Discounts
You will come to know through this HomeworkMarket.com review that the prices of this company are not very high, which is a good thing for students since they are always short of money. The prices on this website vary according to the subject, task scope, homework difficulty level, program, tutor level, and enrollment duration of the student.
According to this HomeworkMarket review, the company offers flexible rates to students according to the type of questions asked by students and the type of answers they choose. If the company thinks that the questions are tough, time-consuming, and if they require tutors to ponder and consider various alternatives, then they charge a high price for their services. This means if tutors do extra research over a question, then students have to pay extra.
Moreover, this Homework Market review will inform you that their website claims that every tutor gives you a different price for their answer and you can choose an answer as per your budget. However, in reality, the price is the same for all the tutors, which is a minimum of $5.
Additionally, according to this Homework Market review, as per the terms and conditions of the company, it holds your payment for 45 days if you are a tutor. This is done to ensure that the student is satisfied and convinced with your answer. Moreover, if a tutor earns over $5,000, then he or she can only access their funds within two weeks.
And, if as a tutor you withdraw your money through PayPal, there will be a fee of $1 charged irrespective of the amount. Additionally, many HomeworkMarket reviews state if you fail to settle a dispute as a teacher within 3 days, a fee of 5% is charged and if the dispute extends to six or more days, a fee of 10% is charged. Furthermore, Homework Market does not offer any discounts.
4. Quality and Guarantees
Homework Market claims that it focuses on meeting the expectations of students in the best way possible. However, the quality offered by this homework help website is not very good. According to several HomeworkMarket reviews, the quality of their papers is very bad.
Moreover, HomeworkMarket doesn't provide any guarantees as per various Homework Market reviews. The company has no money-back guarantee, revision policy, or privacy policy. It doesn't promise anything to its customers regarding its quality or returning your money if a teacher fails to answer your question as per your instructions and deadline. This clearly shows that Homework Market doesn't promise quality service to its clients, which makes it difficult to trust this company.
5. Customer Support
In order to know about the prices and anything about your order, you need to send an email to Homework Market. The company doesn't display any information on its website. Moreover, it does not have a live chat or immediate assistance option for its customers. All reliable writing services have a live chat option, which HomeworkMarket does not have. This makes us question the legality of this firm.
6. Additional Features
The company does not provide any additional features to its customers. As compared to other essay writing help companies out there, HomeworkMarket doesn't offer any premium services, such as content samples, discounts, special offers, etc.
When it comes to payment modes, Homework Market only accepts PayPal, debit cards, Payoneer, and credit cards. Moreover, when it comes to security, Homework Market does not have proper measures in place to restrain scammers from registering themselves using fake credentials and photos.
Summary
We do not recommend using this homework assistance service because:
The quality of its answers is not good and it doesn't claim that it provides quality service anywhere on its website.
Its writers are fake.
The company does not provide any guarantees, such as refund policy and revision policy, to its customers.
There is no live chat option.
Its FAQ section is of no help to students as well as tutors.